You heard right…Kali Linux is a paradise for Hackers. Kali Linux (formerly known as BackTrack Linux) is an open-source, Debian-based Linux Distribution aimed at advanced Penetration Testing and Security Auditing. It is one of the well-known and favourite ethical hacking operating systems used by hackers and security professionals. It is a multi platform solution, accessible and freely available to information security professionals and hobbyists. Kali Linux is maintained and funded by Offensive Security Ltd.
It was developed by Mati Aharoni and Devon Kearns of Offensive Security through the rewrite of BackTrack, their previous information security testing Linux distribution based on Knoppix. Originally, it was designed with a focus on kernel auditing, from which it got its name Kernel Auditing Linux.
Kali Linux contains several hundred tools targeted towards various information security tasks, such as Penetration Testing, Security Research, Computer Forensics and Reverse Engineering.
Kali Linux was developed by Offensive Security to replace the vulnerable BackTrack Linux project. BackTrack was a Linux distribution, which was focused on security.
Since Kali Linux targets penetration testing, it's packed with security testing tools. That's what makes Kali Linux Distro a top choice for programmers, developers, and security researchers, especially if you're a web developer. It's also a good OS for low-powered devices, as Kali Linux runs well on devices like the Raspberry Pi. Today we are going to discuss about this top class Operating System – KALI LINUX.
Official Website: kali.org
History and Development of Kali Linux OS
BackTrack was its previous information security Operating System. BackTrack was used for digital forensics and penetration testing, and its first version was released on May 26th, 2006. Subsequently, other versions were developed with an update and advance features.
Finally, on March 13th, 2013, the defensive security team rebuilt entirely BackTrack architecture on Debian-distribution and released it under the name Kali Linux (First version, 1.0.0 "moto"). With version 2019.4 in November 2019, the default user interface was switched from GNOME to Xfce, with a GNOME version still available. With version 2020.3 in August 2020, the default shell was switched from Bash to ZSH, with Bash remaining as an option. In this way, the Kali Linux came into existence.
The newest version of Kali Linux, 2021.3 (quarter #3) has been released on 21st October, 2021 and this is now ready for download or updating.
Why Kali Linux Is So Much Popular Among Hackers?
Furthermore, being a Linux-based operating system is one of the best things that makes Kali Linux popular. This is because Linux is a very powerful operating system with already built-in security, rolling updates, and security fixes, and is very light on computing resources as compared to other operating systems.
Kali Linux is an extremely popular operating system for hackers. Let's take a look at the reasons, why it is so popular among hackers: –
This operating system can be run on Windows as well as Mac Operating systems. This OS contains several hundred tools that are geared towards various information security tasks, such as Security Research, Penetration Testing, Computer Forensics, and Reverse Engineering which attracts Hackers most.
It is a free OS and has over 600 tools for penetration testing and security analytics. It is an open-source model and all the code is available on Git and allowed for tweaking.
Kali Linux can be deployed on many devices, such as from smartphones and tablets to Wi-Fi routers and computers.
Kali Linux system is oriented towards security; it is mainly popular for the testing of security reasons on different types of equipment and is used by both white hat and black hat hackers.
Kali Linux is easy to customize based on our needs and preferences. It has multi-language support that allows users to operate in their native language.
The platform is built-in a secured environment i.e., few knowledgeable developers can work transparently and follow the best security practice.
Requirements and Supported Platforms for Kali Linux OS
The developers of Kali Linux aim to make Kali Linux available for even more ARM devices. Kali Linux is distributed in 32-bit and 64-bit images for use on hosts based on the x86 instruction set and as an image for the ARM architecture for use on the Beagle Board computer and Samsung's ARM Chromebook.
Kali Linux is already available for Asus Chromebook Flip C100P, HP Chromebook, Odroid XU, Odroid XU3, EfikaMX, Odroid U2, CubieBoard 2, CuBox, BeagleBone Black, CuBox-i, Raspberry Pi, Utilite Pro, Samsung Chromebook, Galaxy Note 10.1, and SS808 and so on.
It is also available on Windows 10, on top of Windows Subsystem for Linux (WSL). The official Kali distribution for Windows can be downloaded from the Microsoft Store.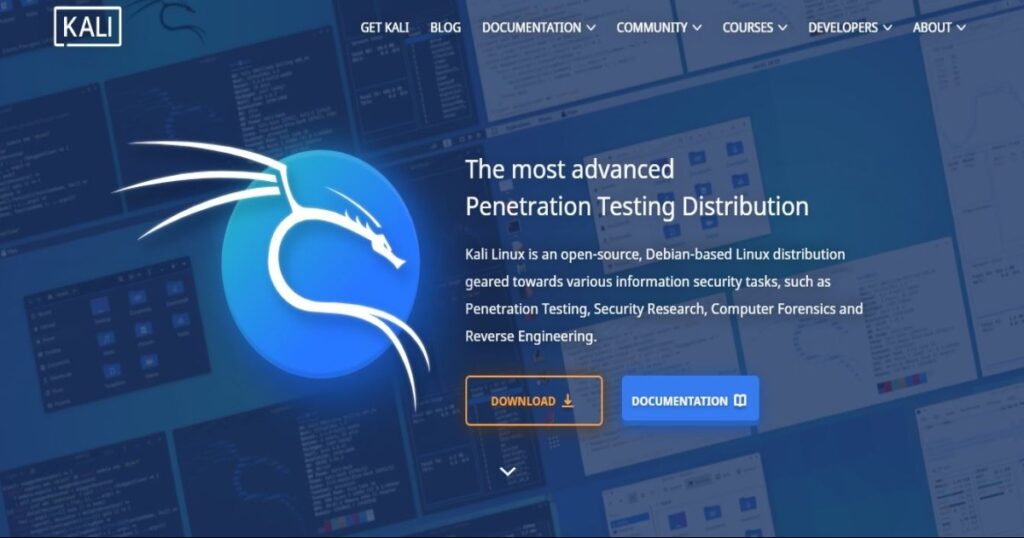 Let's see Some Requirements to Download This OS:
At least 20GB hard disk space for installation depending on the version (Version 2020.2 requires at least 20GB) and minimum 2GB RAM for i386 and AMD64 architectures.
2 GHz dual core processor or more, USB boot support, require a network connection. A bootable CD-DVD drive or a USB stick.
You can go further for a smoother experience, such as: A minimum of an Intel Core i3 or an AMD E1 processor for good performance, 50 GB of hard disk space (SSD preferred) and so on.
Features of Kali Linux OS
Let's see some important features of Kali Linux OS:
Kali Linux has a dedicated project set aside for compatibility and porting to specific Android devices, called Kali NetHunter.
Full customisation of Kali ISOs. With the use of metapackages optimized for specific need sets of a security professional and a highly accessible ISO customization process an optimized version of Kali for your specific needs is always easy to generate.
ARMEL and ARMHF supports and also Multi-language supportable OS. Supporting over a dozen different ARM devices and common hardware such as Raspberry Pi, Odroid, Beaglebone, and more.
Live USB Boot. This allows you to place Kali onto a USB device, and boot without touching the host operating system.
It is the first Open Source Android penetration testing platform for Nexus devices, created as a joint effort between the Kali community members "BinkyBear" and Offensive Security.
It is the undisputed industry standard Open-source penetration testing platform. Kali Linux, like BackTrack, is completely free of charge and always will be. You will never, ever have to pay for Kali Linux.
Uses of Kali Linux OS
Let's see some uses of Kali Linux OS:
Kali Linux is mainly used for advanced Penetration Testing and Security Auditing. It contains several hundred tools which are geared towards various information security tasks, such as Penetration Testing, Security research, Computer Forensics and Reverse Engineering.
It is a top choice for programmers, developers, and security researchers, especially if you're a web developer.
We can identify the source of the attack using forensics, and using Reverse Engineering by security professionals. Kali Linux is a one-of-a-kind operating system that is freely utilized by both good and bad individuals. This operating system is heavily used by Security Administrators and Black Hat Hackers.
Using the tools available in Kali Linux, security professionals see reverse engineering as a critical tool for maintaining competition and developing protection systems against future threats.
Pen testers use Kali Linux to audit environments and perform reconnaissance on the corporate environments they've been recruited to examine.
Network administrators are in charge of keeping the network running smoothly and securely. They audit their network with Kali Linux. For example, Kali Linux provides the capacity to detect illegitimate access points.
Hope you enjoy this article on 'Kali Linux – The Paradise for Hackers'. If you have any queries, please comment. THANK YOU & don't forget to share it with your friends.
Popular Articles:
FunFacts!!
The developers of Kali Linux say if you are looking for a Linux distribution to learn the basics of Linux and need a good starting point, Kali Linux is not the ideal distribution for you. You may want to begin with Ubuntu or Debian instead (Kali Linux Official website).