13 Simple Ways to Increase Blog Traffic by 371%: Are you new to blogging, or have you been seriously considering it? I know you're likely familiar with blogging or at least the concept of blogging. But, Did You Know That Over 70 Million Blog Posts Are Published Monthly? In past years, it's been deemed necessary for business owners to utilize blogs to create more and more content.
Writing great content is only half the battle when it comes to blogging. Marketing and promoting your latest posts should take up the majority of your time and for that, you need to find lots of places to promote your blog and draw in your target audience.
Successful blogging takes more than just writing great content. Most people agree that content creation should take up about 20% of your blogging efforts with the rest of your time being spent on promotion and other important tasks. Even if you have a top-quality blog or website, you can't expect everyone to come unless you promote your content and build a following.
However, there are almost 4.5 billion active internet users. Getting blog readers is all about promoting your blog content to the right audience at the right place and at the right time. But, as a blogger, promoting and driving traffic to your blog is not easy. It can feel like you're talking into a void sometimes.
SO…
Where to Promote Your Blog Content?
How Can You Do That?
What Are The Best Platforms To Promote Your Content And Get Lots Of Traffic?
How to Drive Massive Traffic to Your Blog through Social Media Platforms?
So, to start you'll need to diversify your blog promotion strategy so you can get traffic from several sources. Your reading audience and your customers are your number one priority. While you may increase your views by posting on as many websites and social networks as possible, it may take some time and a little effort and patience.
Should You Promote Your Blog On Social Media?
Social Media Platforms are one of the best ways to promote your blog content. Of course, you'll want to take the time to cultivate a strong social media presence and ensure you aren't posting swipe-up links to your content daily. But, besides Social Media, there are more available places on the web which can be a great marketing tool for your blog promotion.
Are You Looking For The Best-Proven Places Where You Can Promote Your Blog Posts?
Do You Have Concerns About Which Places Are Good And Which Are Not To Promote Your Blog Post?
Are You Tired Of Promoting Your Blog Content To Places That Aren't Giving You The Results You Want?
Do Such Questions Constantly Bother You? That's not a big deal. I'm bringing you 13 proven places where you can promote your blog content and get great results. Let's Go…
1. Medium
Developed by Even Williams, who previously co-founded Twitter and Blogger, Medium is an online content publishing platform where you can share your article writing and also browse a variety of content from other writers, authors, and publications. Medium is an online publishing platform where you can post your blogs or text content. It's one of the most popular blog platforms because the site has nearly 100 million visitors per month.
So, if you are a blogger with insights that you would like to share with others, Medium.com is your platform.
If you are a brand with the latest industry tips and tricks, Medium is a great promotional tool.
Typically, Medium is used for thought leadership content. Additionally, many freelance writers post their blogs on this site.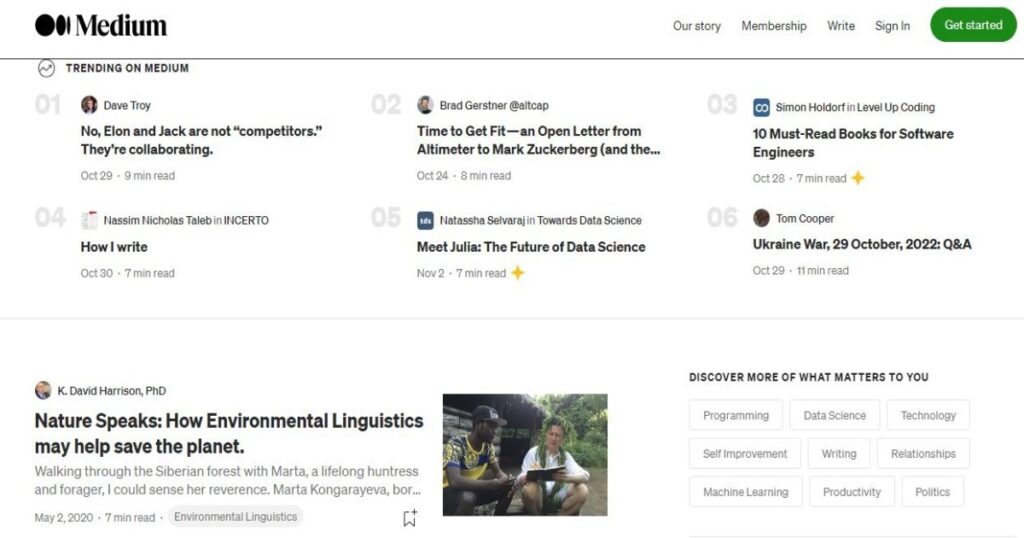 If you write quality content, you can submit your content to a publication. And, if it meets its editorial guidelines, it will publish your post on its publication. This gives you an opportunity to get your content in front of a lot of people without having any followers at all.
Medium is also good for SEO because Medium stories can include canonical links that pass link equity to a target page on your website. If you want to post your blogs, you can cross-publish your blogs on this site without hurting your SEO. This can help improve your SEO by adding contextual backlinks that help search engines crawl and index your content.
2. Pinterest
Pinterest is a visual discovery engine for finding ideas like recipes, home and style inspiration, and more. Since its launch in March 2010, Pinterest has slowly garnered a highly engaged audience. According to data shared by Statista, as of Q1 2022, Pinterest boasted 433 million monthly active users across the globe.
Pinterest offers a mix of free and paid advertising tools, and combining both can earn you 3x more conversions and twice the ROI on your ad spend, versus paid ads alone.
You can promote your blogs on Pinterest, build a community, and drive traffic to your site. Since users can click through to live links, it's a great place to post your blogs.
A majority of Pinterest is female and likes to shop online. This makes Pinterest great for home decoration, baby products, or cooking-related posts, as well as product-based marketing.
The secret to driving massive traffic to your post from Pinterest is creating descriptive images. Visuals with clear, concise messaging are more impactful on the platform than run-of-the-mill graphics. Infographics are also highly popular on Pinterest. You can convert your latest blog post into an infographic and share it on Pinterest to drive a ton of traffic back to your website.
3. Reddit
Reddit is a social news website and forum where content is socially engaged and promoted by site members through voting. It is one of the most popular communities on the Internet, with over 330 million active users. It goes without saying that there is an enormous potential to drive traffic to your site from the platform.
The site name is a play on the words "I read it." The Reddit member registration is free, and it is required to use the website's basic features. Reddit can be a worthwhile platform to consider for sharing content, but it needs to be done the right way.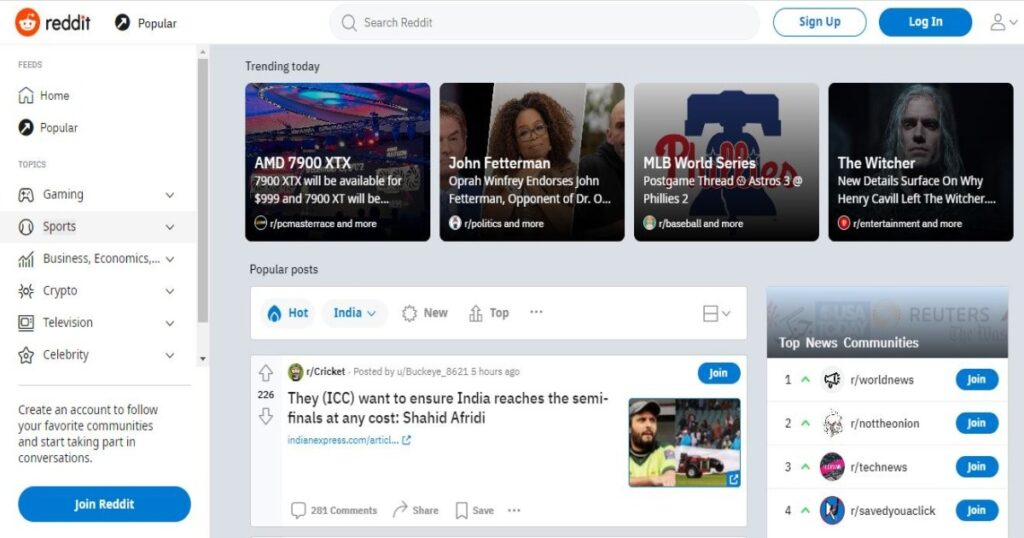 You can use Reddit as a blog, but it is not designed for that purpose. If you want to use Reddit as a blog, you will need to find a way to post your content on the site. There is no built-in blogging feature on Reddit. Unlike most social networks, Reddit relies on a voting system that makes popular content (links or text posts with the most 'upvotes') rise to the top, while spam falls to the bottom.
4. Email Newsletter
Email may sound a bit old school, but it's still an effective channel to promote your new content. And, Email marketing for bloggers can be one of the most powerful ways to promote your blog content. As such, building an effective strategy can grow your audience and keep them coming back for more.
Emailing interested customers is one of the most effective ways to get your blog post opened. In addition to being much more loyal to your brand, email subscribers are 3.9x more likely to share your content via social media than visitors from other sources.
Email marketing is up to 40 times more effective than social media, according to a study done by McKinsey & Company. The same study also shows that the buying process happens 3 times faster than in social media. According to Constant Contact, 72 percent of consumers prefer email as their source of business communication.
5. Quora
Quora is a social question-and-answer website. It was founded on June 25, 2009, and made available to the public on June 21, 2010. Here, users can collaborate by editing questions and commenting on answers that have been submitted by other users.
Quora works a lot like Yahoo! A place where anyone can ask any kind of question and the most helpful answer is put at the top. It has been around forever and is known as the premier question-and-answer website on the Internet.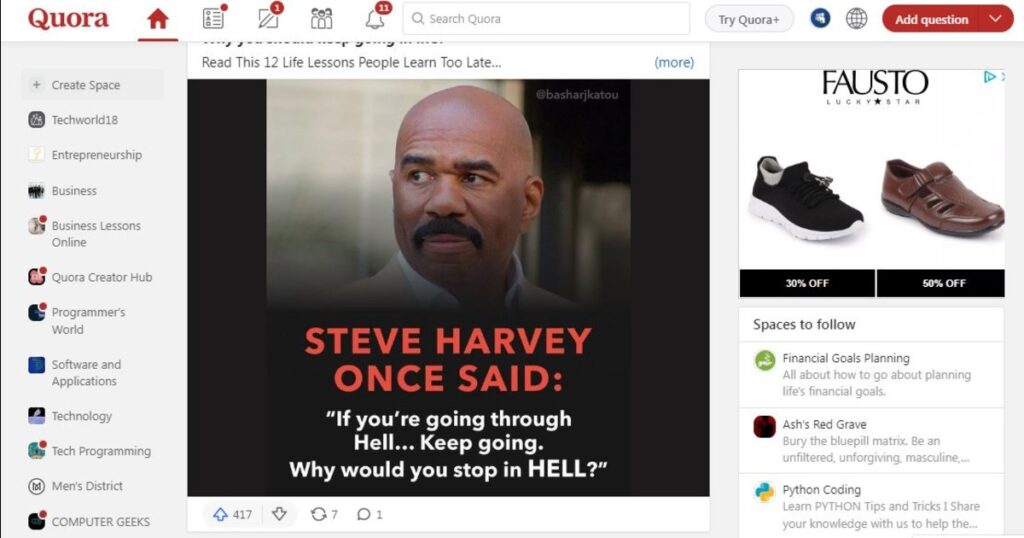 Linking to your blog in Q&A websites is one of the oldest strategies for bringing traffic to your content. You need to set up your account by following some topics, upvoting some answers, and asking your first question, but after that, you're free to post.
You can certainly use your own Quora answers on your blog post on your website — as long as those Quora answers are the ones you wrote, or you give the proper credit. However, you cannot use anyone else's content without their expressed written permission.
6. Facebook
Facebook is the most popular social network in the world, and at this point needs no introduction. But, while everyone knows you should be on Facebook, does everyone know that using Facebook Groups is one of the top ways to reach users? In fact, 1.4 billion people use Facebook Groups and there are more than 10 million Groups on Facebook.
As the biggest social media network in the world, of course, there should be room for Facebook in everyone's social media marketing strategy. Many bloggers use Facebook posts for microblogging.
As a blogger, using Facebook is a great way to keep in touch with a broad audience and build a loyal following along the way.
From a content marketing perspective, this platform gives you greater audience targeting and market research than any other website, besides Google.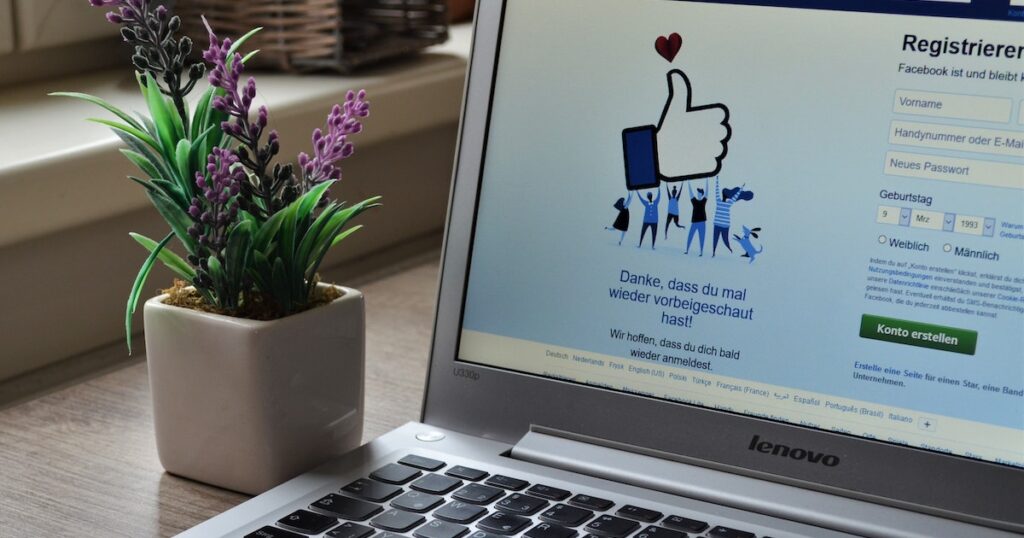 Facebook is the ideal platform to share videos, images, and text-based content. The maximum character count for Facebook is 63,206; however, studies show that Facebook posts with 80 characters or less generate 88% more engagement.
You can also create a Facebook ad campaign. Using Facebook Ads to drive traffic to your blog post or website is great for a number of reasons. It can target the right audience that you want to tap into and help establish credibility and build trust. All of this leads to building relationships which is what business is about.
7. LinkedIn
LinkedIn is a social networking site designed specifically for the business community. It is known as the professional network, so there are a lot of businesses and startup entrepreneurs. The goal of the site is to enable registered members to establish and document networks of people they know and trust professionally.
While LinkedIn is a great place to share links to your latest posts, an untapped opportunity within the platform is the ability to publish articles.
Like Medium, it also allows you to syndicate blog posts on your personal LinkedIn profile as LinkedIn articles.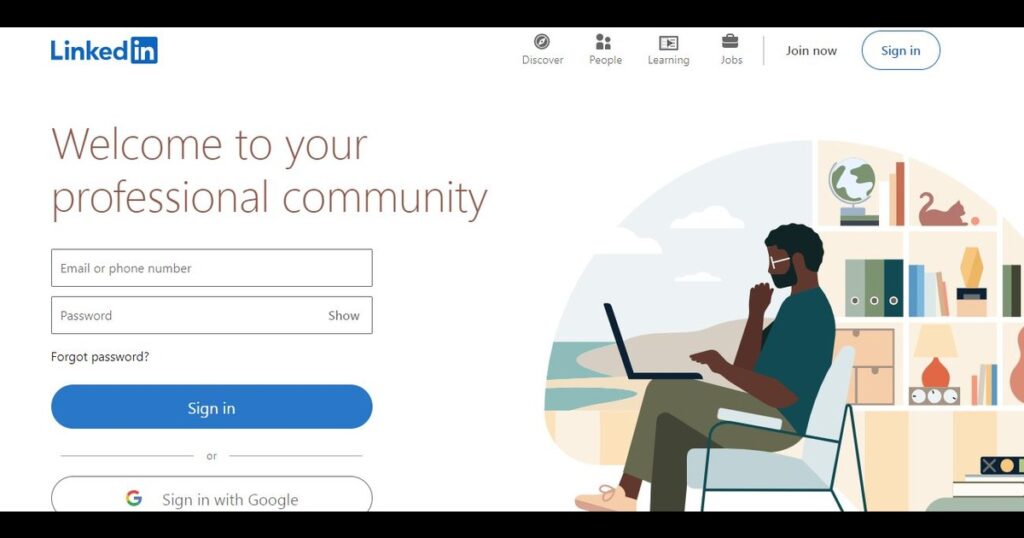 So, LinkedIn is definitely one of the best platforms you can use for blogging or content marketing, as it can help you boost your exposure, raise brand awareness, drive more traffic to your blog and create numerous authentic connections that can pave the way to greater growth and profitability.
It offers an in-house platform on which you can directly publish blogs. Start sharing your recent posts on LinkedIn regularly to build a loyal horde of visitors or viewers. This is one of the easiest ways to redirect traffic to your website.
8. YouTube
YouTube is the number one video-sharing platform in the world with more than 95% of the internet population using it. There Are 2.1 Billion Monthly Active YouTube Users Worldwide. In terms of daily active users, YouTube sees approximately 122 million users per day. YouTube's search volume is larger than that of Bing, Yahoo, and DuckDuckGo combined.
YouTube Can Be A Great Option To Drive Traffic To Your Blog and Here's Why: It can work for almost any blog or any type of content, and it won't break your budget. YouTube is not a regular marketing channel, but rather a publishing platform. This means that you need to create content to publish on YouTube in order to build your presence there.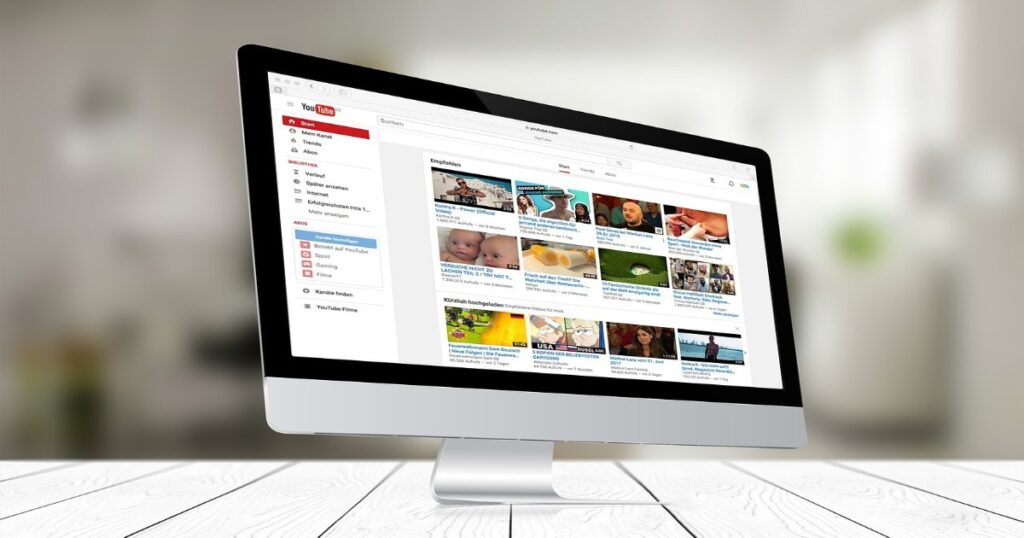 Even if you don't create many videos for your business, you can still easily reach a target audience by advertising your content on other people's videos. There is so much traffic on YouTube that you're guaranteed to find potential customers as long as you cater to their needs.
9. Instagram
Instagram is the second most popular social network in the world in terms of active users, behind Facebook. It may not have all the same features as Facebook, but Instagram has become really popular with celebrities and younger audiences.
With over One Billion monthly active users and 500 million people who use Instagram Stories every day, you will be missing out if you are not sharing your blog post or content on Instagram.
If you're hoping to increase blog traffic, investing in a strong Instagram strategy is a great place to start.
When you promote a blog on Instagram, you might consider using the Stories feature. If you have at least 10,000 followers you can include a swipe-up link to your blogs on your Instagram Stories.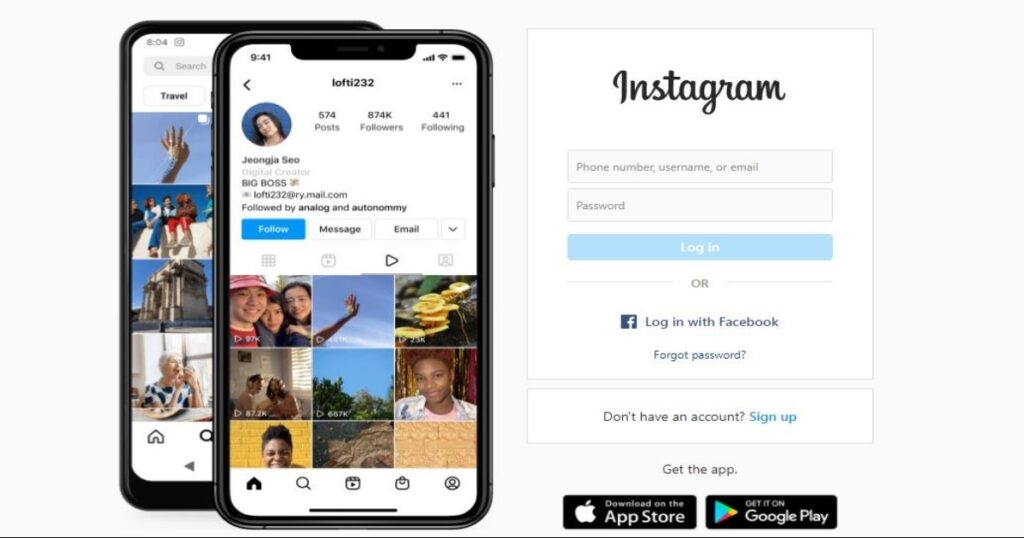 However, if you don't have that many followers, it's okay. You can still share links to your blog posts in your bio and promote them through your posts on the feed or Stories.
10. Twitter
Twitter has over 140 million monetizable daily active users and it's yet another obvious place where your content needs to be shared. It is actually perfect for promoting blog posts because blog posts are samples of your writing that are short, digestible, important, and available with the click of a link.
Twitter can be a fantastic tool for promoting your blog posts, even if you don't have ad dollars to spend. In fact, it is one of the few platforms where you can benefit greatly by sharing the same content multiple times.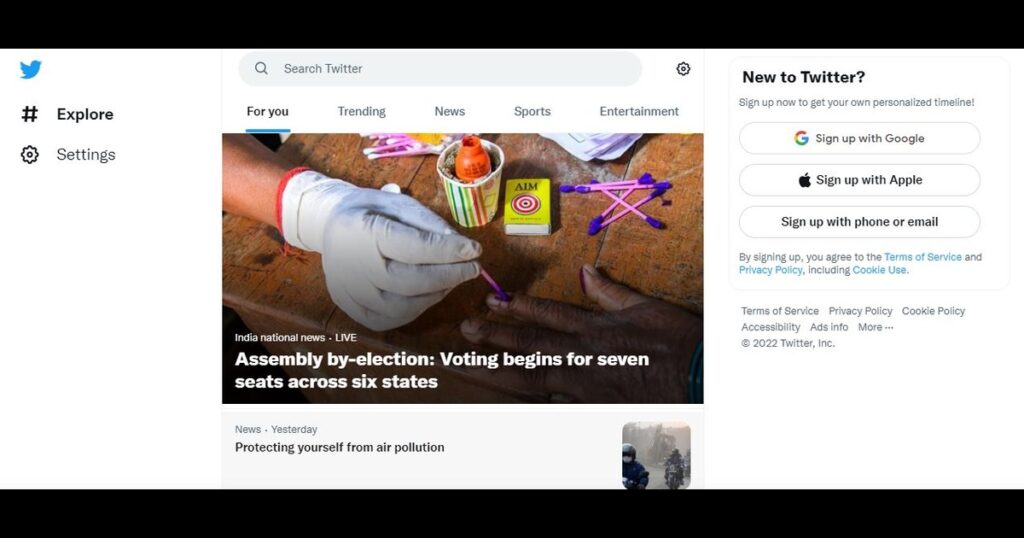 The fast-paced, information-sharing culture on Twitter makes it an ideal platform for bloggers or content creators, marketers, promoters, and brand managers to get their content in front of the right audience.
11. Flipboard
Flipboard is a popular news aggregator app, available on iOS and Android. It allows you to create different content categories, called magazines, and you can start populating these categories with relevant content. It is especially popular among mobile users and provides a visually pleasing way to continue sharing interesting articles.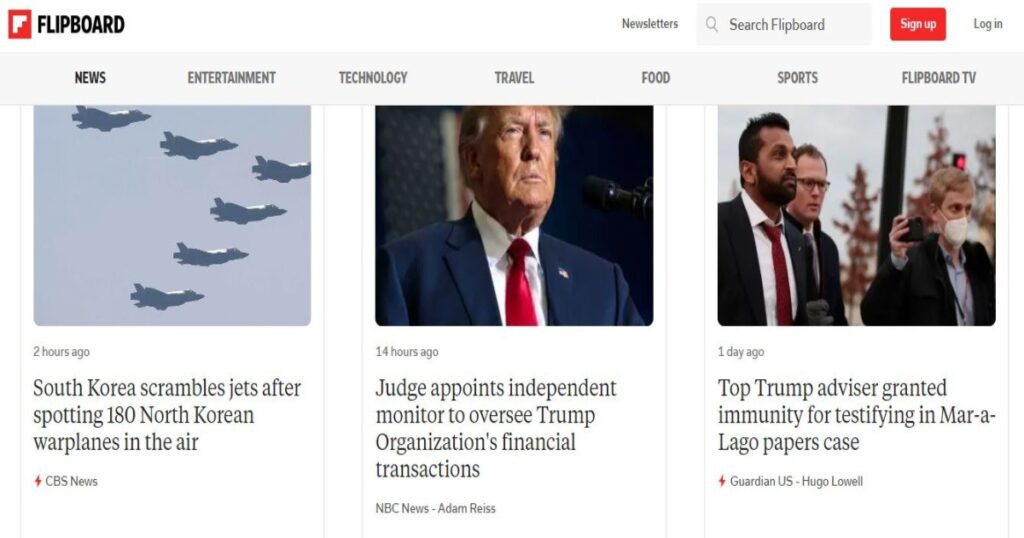 To get started with Flipboard, you can create a Flipboard account and then choose the topics that interest you.
Add related articles, web content, or your own blog posts. You can create group magazines with other collaborators to share your content.
However, for Flipboard to be an effective promotion channel, you need to build a following so more people can view the latest added posts in your magazines.
Promoting your blogs on Flipboard can help new readers discover your content. When a blog is posted, readers are redirected to your site, which helps generate traffic to your blog posts.
12. Viral Content Bee
ViralContentBee.com (formerly Viral Content Buzz) is a free platform allowing you to put your content in front of social media influencers for them to share it on Twitter, Facebook (including pages), Pinterest, and StumbleUpon.
It is a fantastic way to get free social media exposure for your site. You may quickly earn enough points to have your posts shared throughout the week if you spend a small amount of time each week putting in posts to your queue.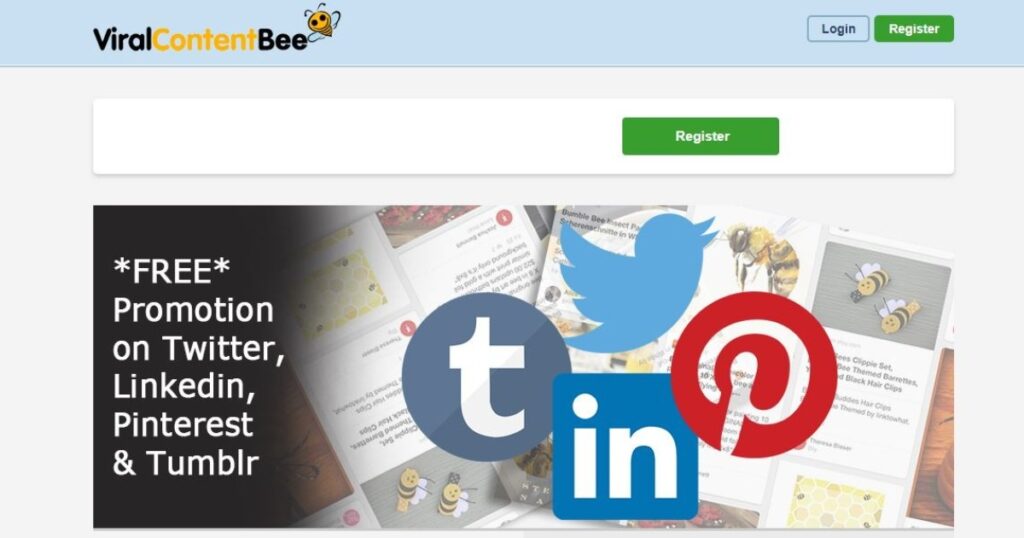 You earn credits by sharing other content in order to get your own blog posts shared. It is free to use and can help give you a little boost.
However, remember content quality is a deciding factor when it comes to the ultimate shareability of your content.
Though your blog post will be shown to a vast network of influencers, it is their discretion that determines whether they will share your post or not.
13. Growth Hackers
The Growth Hackers is an online community-based blog where you can find and distribute high-quality trusted articles on Growth Hacking, Marketing Channels, User Acquisition, Engagement, Product Launch, and more.
If your content is related to Marketing, Promotion, Branding, Blogging, Content Lead Generation, Social Media, Design, SEO, and similar, this place can be a masterpiece for you.
The community follows strict guidelines to moderate content and the content curation team reviews all posts before publishing them on the main page.
It costs extra to join Growth Hackers Projects, which is a more in-depth dashboard for your company's testing and optimization purposes, but it is totally free to post as long as you have a Facebook or Google account.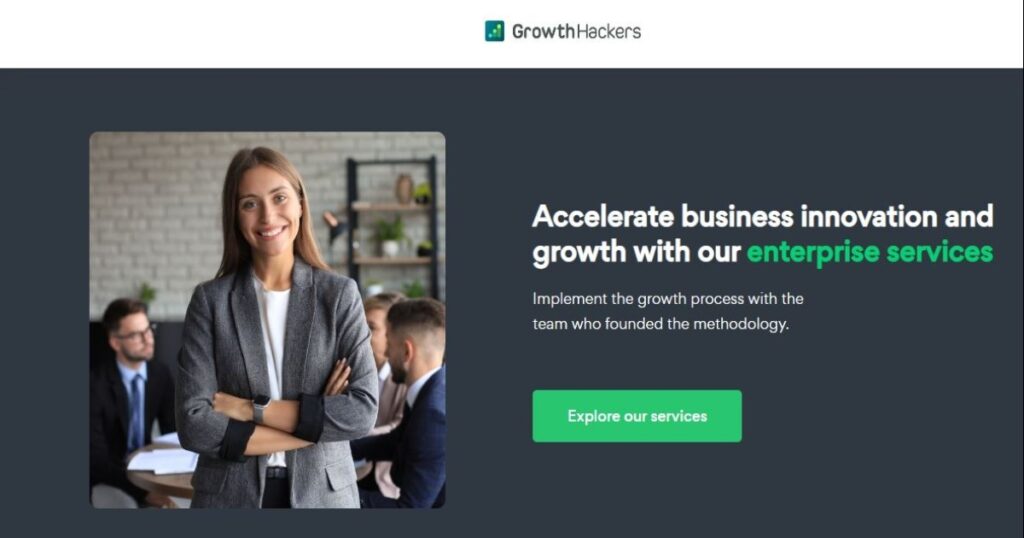 If you have ever wondered how you can promote your blog for free, I hope this post has answered your question completely and given you plenty of options for places you can promote your blog without spending a dime!
Sites like Medium, Quora, and LinkedIn have given us the opportunity to share content and get it in front of more people, but don't take advantage of it by sharing low-quality, uninteresting content.
Hope you enjoy this article on '13 Simple Ways to Increase Blog Traffic by 371%', which will help you to choose the right digital platform for you, and also help to build a strong community, and make more money.
If you have any queries, please let me know in the comment box, and we will try to answer your question as soon as possible. THANK YOU & DON'T FORGET TO SHARE WITH YOUR FRIENDS Who Need This Informative Article.
//** Some Images are Captured From the Homepage of Their Original Website **//
BONUS Articles For YOU!