Is Blogging Still Beneficial to Make Money Online: Are you new to blogging, or have you been seriously considering it? I know you're likely familiar with blogging or at least the concept of blogging. In past years, it's been deemed necessary for business owners to utilize blogs to create more and more content.
Online earning is a method of making money with the help of the Internet. It includes owning a Website or Software Application, beginning an online business, or opting for other options of online earning that are obtainable from the Internet. Earning money online has never been as easy as now. Many people are looking for an online job and want to make money without paying any registration fee or doing any investment. However, it is difficult to find an easy way to earn money online without investment.
Today, every person wants to Earn Money Online without Any Kind Of Investment by sitting at home. Moreover, teenagers and mainly school and college students are also eager to make online money without any kind of investment. The growing world of online has opened up some unusual but real opportunities to make money from the comfort of your home. You can work any day, any hour and anywhere you want, and all you need is just an internet connection.
BUT…
Is Blogging Still Profitable?
What Is The Future of Blogging?
What Are The Benefits of Blogging?
Should You Start Blogging to Make Money Online?
How Much Can You Earn In a Month From Blogging?
Are you struggling to find 'helpful' answers to these questions? If yes, you're in the right place. Let's Get Started.
Is Blogging Still Relevant for Making Money Online?
Blogging (a shortened version of 'weblog') refers to writing, photography, and other media that's self-published online. It is a platform where a writer or a group of writers share their views on an individual subject. Blogging started as an opportunity for individuals to write diary-style entries, but it has since been incorporated into websites for many businesses.
The purpose of a blog is to create a more engaging website and to attract more traffic. Blogging has been and continues to be highly profitable for many bloggers who understand keyword research and competition analysis. Along with using your website to teach users about your products and services, you can also include a blog section to teach consumers about topics that are relevant to your field.
Today, there are more than 570 million blogs on the web. In fact, roughly 409 million internet users read about 20 billion blog pages monthly. According to blogging statistics from a recent survey, 60% of internet users are regularly reading blogs. The number of bloggers in the USA alone is set to reach 31.7 million users by 2020. This is why 53% of marketers prioritize blogging as their primary content marketing strategy. Furthermore, blogging continues to flourish with a 12% increase in the last 5 years. So, blogging is absolutely still relevant.
So, it is quite natural to be curious if blogging is still a profitable business. Many people around the world are heavily dependent on the Internet. Therefore, blogging can still be profitable.
Then…Why Do Most Bloggers Fail?
A lot of beginners fail here because of the unwillingness to narrow down their blog's focus, and they give up too soon. Sometimes, they choose a niche that they know nothing about, or are not really passionate about and therefore get bored quickly. After all, when starting a new website it can often take some months before it takes off. And many lose motivation when they don't see that instant gratification.
You might want to blog about healthy living tips, technology, fashion, foods, and photography all at the same time but not having a concrete topic is in no way going to bring you success. One of the reasons why bloggers fail is that they are not producing engaging, outstanding quality content. With so much content being produced, great content is the minimum bet for getting in the game.
So, make your blog about something very specific and you'll please both the search engines and your readers. Write consistently about your chosen subject, and with a consistent voice and approach.
What Is The Future of Blogging?
The blogging world has changed considerably in the last couple of years. The world has gone digital, and blogging is one strategy that remains relevant. Technology is advancing at a fast rate. If you are a blogger, content marketer, or small business owner, you need to be aware of these changes and take appropriate action to prepare and adapt to these changes. The techniques that worked 10 or even 5 years ago may not work today and the techniques that work today may not work tomorrow. Therefore, there will always be new software that optimizes online content.
The future of blogging lies in social media content because it helps to get more followers. Social Media and video content are other powerful tools in digital marketing, but they cannot replace blogs. Instead, using blogging alongside social media is one of the best ways to optimize digital marketing. Hence, a blogger should know how to use his/ her content for social media purposes with more attention. It gives ways to experience the desired outcomes.
According to the survey, 74% of respondents said that videos are more effective than blog posts for generating leads. But that doesn't necessarily mean you should abandon all of your blogging efforts and go all-in on video content. More people are actually driven to read blogs that teach them how to do something new. While 33% selected this reasoning, 20% said they read blogs to be entertained, while 12% read blogs to learn about news or trends in their job industry.
What Are The Benefits of Blogging?
Blogging is a way of sharing your thoughts, ideas, and experiences with the world. Over the last decade, blogging has evolved from having more personal to more professional goals. It can be a great way to connect with people who share your interests and to build up a following of loyal readers. In fact, there are practically no good reasons holding you back because there are plenty of free options available if you don't plan to make money.
Blogging gives you a chance to express yourself and share your creativity with the world. You can use your blog to share your photos, stories, and ideas with people from all over the globe.
If you have a business, blogging can be a great way to promote it. Every time you create and publish a blog post, it's one more indexed page on your website, which means one more opportunity for you to show up on the search engine results page (SERP) and drive traffic to your website in organic search.
If you're someone who loves to teach, starting a blog can provide the opportunity to educate others interested in your field of expertise. By writing informative and interesting blog posts, you can attract new customers and clients to your business.
Staying ahead in your career takes a certain level of networking, and blogging is a natural way to stay connected to your industry. If you're looking to make new connections in your industry, you can share your professional blog with your social circles, attain readership, and quickly grow your online network.
Blogging for money is one of the hottest topics these days and it is actually a niche that is rife with opportunity. The best part is that, as you build resources on your blog to teach others, you may realize there is a chance to monetize your blog by creating educational products or services online.
The more you write, the better you become at it. Many people who do blogging find it interesting. For those who are interested in blogging, they can either do it with a blogging platform or through a company of content marketers.
However, due to their immense popularity, blogging is in high demand. It is not easy as it appears to be. More and more marketing, financing, and healthcare professionals turn to the blog to share their expert knowledge and connect with like-minded people and find new opportunities in their field.
Should You Start Blogging to Make Money Online?
Millions of people try their hand at blogging, but so few actually ever generate a substantial income from their efforts. Blogging for money is not a theoretical concept but it's a reality. Anyone with some basic knowledge of blogging, SEO, Backlink and a general idea of how the Internet works can start a blogging business and make money.
Blogging is a great way to make your first dollar online. Start by choosing a profitable niche, building an email list, and recommending products you're an affiliate for. In most cases, the ad network a blogger is associated with pays the blogger a monthly income. Occasionally, brands will reach out directly to a blogger to place an ad on the blog. In that case, the brand would negotiate a rate and pay the blogger directly. You can also make thousands of dollars per month if people purchase through your recommendation.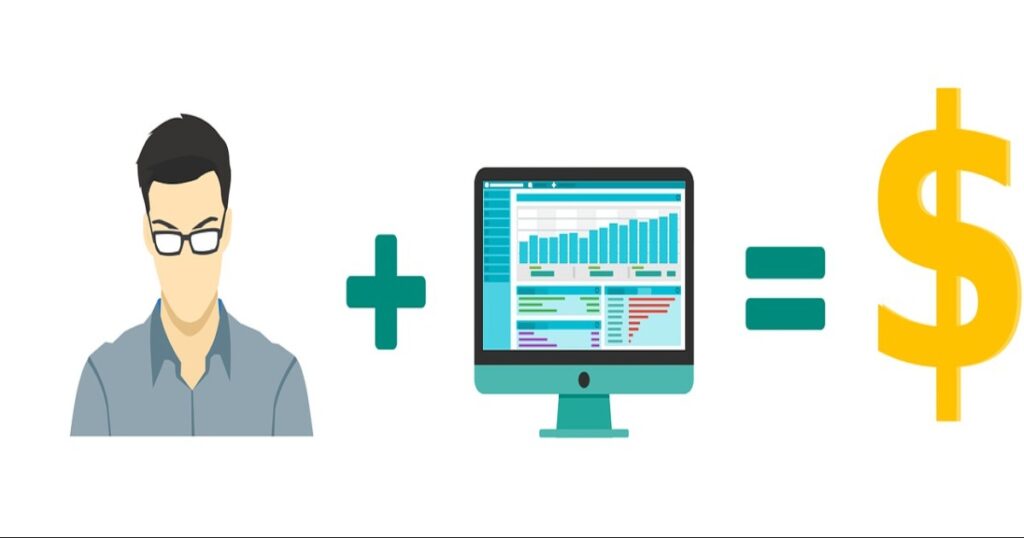 By providing value to readers, you'll soon become recognizable in the community. Many people choose blogging as their professional career and make a decent income doing it. They will know your knowledge and advice is worth the effort of seeking out. Building your brand is a springboard for transforming your blog into something more.
However, if you're starting a blog for the purposes of making money, and you're not actually passionate about writing in the first place, then you're largely wasting your time. It takes hard work, dedication, and a lot of time to build up a successful blog.
How Much Can You Earn In a Month From Blogging?
It depends on several factors such as your niche, the authority your website has, the amount of traffic you get, and so on. On average, a blogger can earn between $300 and $400 per month as a beginner. On average, you can expect to earn $50 and more per banner ad depending on the size. If you're getting huge traffic, you can even charge $500 to $2000 per month for selling banner ads.
Blogging has emerged as a serious profession for many people in India over the last few years. There are different types of roles and streams of income for bloggers. Celebrity bloggers can earn in the range of $20,000 to $30,000 every month. Established bloggers who implement strong monetization strategies earn $3,500 to $15,000 monthly. Top bloggers can earn seven-figure incomes from their blogs.
CALCULATE YOUR EARNINGS! (After clicking the button scroll down a bit)
Frequently Asked Questions about Blogging
1. Is Blogging A Good Career?
Blogging can be a full-time career. It is emerging as a full-time career option, and, chances are, you can earn more from blogging than your current salary at your job. Being a professional blogger is like being your own boss, with a flexible schedule and work-life balance, and furthermore, you can blog wherever you want; all you need is a laptop/PC and a good network connection. However, it takes hard work, passion, dedication, and a lot of time to build up a successful blog.
2. Do Bloggers Get Paid?
You can earn from Google Adsense (AdSense is lightweight, reliable, and offers publishers a fair share of revenue generated from clicks), sell any product, or generate an affiliate commission. When someone clicks the link on your site, goes to the affiliate's site, and proceeds to buy the product you've endorsed, you earn a commission on the sale.
3. Can I Blog About Anything?
If you want to blog about multiple topics, the best solution is to simply run multiple blogs on different domains. This way, all of your niches stay separate and organized. And of course, you can blog about anything. You can even blog about your personal life.
4. How Many Blog Posts Do You Need To Make Money?
It totally depends on your niche, your monthly traffic, and your target audience. But still, it can be considered that you need to write a minimum of 20-25 quality blog posts to earn from your blog site.
5. How Many Views Do You Need To Make Money Blogging?
If you have more than 100,000 total page views a month on your blog, then you can earn a good monthly income (i.e. earning more than $3,500/month from your blog). You can monetize your blog and create a nice revenue stream with it. But, the real challenge is making money from a blog that generates fewer than 1,000 visitors per day.
6. How Do Beginner Bloggers Make Money?
Thousands of bloggers are making money through their blogs either by selling ad space, their own products/services, or through affiliate marketing. But, a beginner blogger mainly earns from Google Adsense. On average, a newbie blogger earns around $300 – $500 per month.
7. Can Blogging Make You Rich?
Why not! If you have a blog or site – or you're thinking of starting one – it's never too late to start making money from it. And, the only way you can earn huge money through your blog is if you have enough site visitors and enough quality content.
8. What Type Of Blogs Make The Most Money?
Health and fitness, Personal finance and investing, Technology and Gaming, Business and Marketing, Fashion, Lifestyle, Travel, etc.
9. Who Is The Richest Blogger In The World?
Arianna Huffington. Huffingtonpost.com – $250 million per year (According to the report).
10. Which Country Has The Most Bloggers?
The United States is the number one country in terms of the number of blog posts. In 2020, there are around 31.7 million bloggers in the US according to estimates, up from approximately 28 million bloggers in 2015. That accounts for over 10% of the country's population.
Hope you enjoy this article on 'Is Blogging Still Beneficial To Make Money Online?', which will help you to take the right decision for you and also help to earn more money.
If you have any queries, please comment. THANK YOU & DON'T FORGET TO SHARE WITH YOUR FRIENDS Who Need This Informative Article.
Learn more, earn more…