What is Digital Marketing: The Ultimate Guide for Beginners: Hey Reader…Are you stuck trying to figure out WHY YOU SHOULD LEARN Digital Marketing? OR, do you want to set up a Digital Marketing Business but can't figure out why and how? Then you are in the right place.
Digital marketing is a vast umbrella term that covers multiple areas from SEO to blog writing and distribution channels to budgets. Well, before we go into the basics of digital marketing and even the advanced tactics, let's first go over what digital marketing is.
In This Guide, You'll Learn:
What Is Digital Marketing?
How Does Digital Marketing Work?
What Does A Digital Marketer Do?
Why Is Digital Marketing So Important?
The Benefits of Digital Marketing.
Frequently Asked Questions.
In this guide, we will help you to understand the most important things about Digital Marketing, enabling you to build your own digital marketing strategy to optimize advertising through online channels such as search engines, your Websites/Blogs, and Social Media Platforms, Email, and Mobile Apps, etc. This way we will dive into the step-by-step strategies.
What Is Digital Marketing?
Digital Marketing, also known as Online Marketing, refers to advertising delivered through digital channels to promote brands and connect potential customers using the internet and other forms of digital communication such as Search Engines, Websites/Blogs, Social Media, Email, Mobile Applications, Text Messaging, Web-Based Advertising, etc. Its development during the 1990s and 2000s changed the way brands and businesses use technology for marketing.
Basically, digital marketing is any form of marketing that involves electronic devices. It can be done online and offline, and in fact, both kinds are important for a well-rounded digital marketing strategy.
Digital marketing empowers customers, offers them personalized experiences, and helps brands build transparent and stronger relations with them. Nowadays, consumers rely heavily on digital means to research products.  According to HubSpot Research, 77% of customers research a brand or product online before engaging with it. Meanwhile, 51% of consumers say they use Google to research products before buying.
The Global Digital Marketing market was valued at around $290 to $310 Billion in 2019. The digital marketing industry report forecasted the industry to grow at a CAGR of 12.8%, reaching around $330 to $340 Billion in 2020.
How Does Digital Marketing Work?
In many ways, digital marketing is no different than traditional marketing. But it has replaced most traditional marketing tactics because it's designed to reach today's consumers. Digital marketing uses a range of strategies to reach customers, whether the aim is to tempt them into making a purchase, increase their brand awareness, increase the sale of products or services, or simply engage with them.
Modern Digital Marketing Comprises A Broad System Of Channels, Including:
Search Engine Optimization (SEO) Marketing
Content Marketing
Social Media Marketing
Pay Per Click (PPC)
Email Marketing, and so on…
While the benefits of digital marketing are plentiful, understand that each form of internet marketing functions in its way. These marketing strategies are hugely helpful to firms in that it allows them to grow their audience as far as their budget allows. To achieve the true potential of digital marketing, marketers must dig deep into today's vast and intricate cross-channel world to discover strategies that make an impact through engagement marketing.
What Does A Digital Marketer Do?
In general terms, a Digital Marketer is responsible for creating leads, creating brand awareness, and using a variety of digital channels/media to increase sales of products or services. Digital channels include Company Websites or blogs, Social media networks such as Facebook, YouTube, Instagram, LinkedIn, Twitter, etc. A Digital Marketer uses digital channels to reach customers, build brand awareness, and promote products and services.
Because of the unique combination of planning, creativity, and strategy for their role, digital marketers can perform a wide variety of tasks. As a digital marketer, you may have to: create and upload brand posts and images for the organization's website, write and dispatch email marketing campaigns, or provide accurate reports and analyses to clients and company management to demonstrate effective Return on Investment (ROI).
Actually, the digital marketer usually focuses on a different key performance indicator (KPI) for each channel so they can properly measure the company's performance across each one. For example:
1. SEO Manager
SEO Managers consider all aspects of a search and provide the strategies required to find visitors who will need a particular service. They are responsible for planning, implementing, and managing the company's overall SEO strategy.
SEO assists in converting a visitor to a customer. With billions of web pages available, the SEO Manager helps target the right content to attract the right people to a website. They usually cover a wide variety of duties such as web marketing, content strategy planning, data analysis, link building, keyword research, post optimization, etc.
2. Content Marketer
A content marketer is responsible for the planning, creating, and sharing of valuable content or article to attract and convert prospects into customers, and customers into repeat buyers. It is a balancing act, like other marketing jobs, much of their talent is spent thinking about why certain messages resonate with an audience, how content can grow business relationships and helps to build a strong community, and how to ensure a content strategy represents the business as authentic and valid, and so on.
They are not explicitly promoting a brand but rather generating interest through valuable resources, like blogs and articles, whitepapers, how-to guides, and even videos and podcasts. A good content marketer's mission is to create online materials that will resonate with their users and gain new customers along the way. The type of content the content marketer shares depends upon what he sells.
3. Social Media Manager
Social media managers are ordinarily responsible for developing strategies to increase followers, reviewing analytics, curating a brand's social channels, producing content, creating and overseeing social campaigns, and communicating with key stakeholders in a company.
They monitor, moderate, and respond to audience comments and feedback, manage social media partnerships with other brands or influencers, and create and post high-quality shareable videos and images.
4. Marketing Automation Specialists
Marketing automation specialists typically work in an office environment with other administrative staff members and are responsible for handling day-to-day marketing needs for a company's online advertising and promotional campaigns. They also help choose and manage the software that allows the whole marketing team to understand their customers' behavior and measure the growth of their business.
It helps Government departments and businesses automate email marketing, manage stakeholders, build campaigns and deliver online surveys, and so on.
There are also other jobs available in the field of digital marketing. You can choose one of those demandable jobs according to your interests and passions.
Why Is Digital Marketing So Important?
Digital marketing is important because it gives you the opportunity to be in contact with your audience always, and is effective in all industries also. With a strong website and social media channels, you can create trust in the market. It connects businesses with their ideal customers when they are on Google through SEO & PPC, on social media with social media marketing, and through email with email marketing, and so on.
Digital Marketing actually teaches you how to build, scale-up, and sustain your Brand's online reputation across all relevant Digital Platforms. Nowadays, businesses thrive on online presence, reviews, and customer testimonials. So, this helps the companies in identifying their customer's needs more effectively as well as creates trust and a unique sense of their brand with the customers.
Digital Marketing gives businesses a platform to interact with their customers and audience. It helps you reach a larger audience than you could through traditional methods, and target the prospects that are most likely to buy your product or service.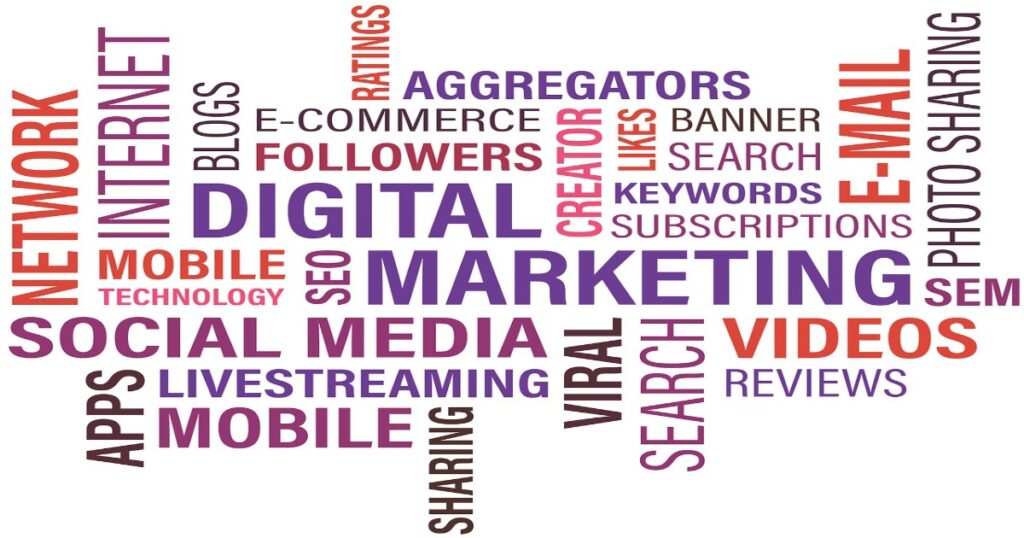 According to a report by Invesp, companies with strong Omnichannel (A multichannel approach to sales that seeks to provide customers with a seamless shopping experience) and customer engagement strategies retain an average of 89% of their customers. Compare that to companies with weak omnichannel programs and they have a retention rate of just 33%.
Additionally, it is often more cost-effective than traditional advertising and enables you to measure success on a daily basis and pivot as you see fit. This is why digital marketing plays a major role in marketing today and will continue to do so in the future.
The Benefits of Digital Marketing
Digital marketing has become prominent largely because it reaches such a wide audience of people, but it offers a number of other advantages as well. These are a few of the benefits.
Digital marketing offers the perfect and best way to get to know and connect with your audience. You can test offers and messages and get an insight into the peak times they visit your website.
It is more Cost-Effective than traditional marketing methods. Digital marketing not only reaches a broader audience than traditional marketing but also carries a lower cost.
With digital marketing, your potential reach is huge. It leverages the playing field within your industry and lets you compete with big brands.
It is easier to adapt and change a digital marketing strategy. Digital marketing makes it easier to create awareness and engagement both before and after the sale.
Digital marketing lets your customers take action immediately after viewing your ad or content. It also can improve your conversion rate and the quality of your leads.
Digital marketing lets you communicate with your customers in real-time. More importantly, it lets them communicate with you.
Digital marketing has seen a steady increase in recent years. Digital marketing, as compared to traditional marketing, offers some key benefits that make it an effective and affordable strategy for marketing the brand. So, this growth trend seems to be going upward for the upcoming years as well. Opportunities will continue to come up in this domain and every digital marketing professional will have to keep up with all the latest trends.
Frequently Asked Questions about Digital Marketing
1. What Is The Core Of Digital Marketing?
Digital marketing is the use of digital technology to promote and market your products or services, specifically on the internet. Times are changing, and so is the way customers engage with advertising. This marketing approach enables you to affiliate with your clients and eventual customers. It is an essential component of a comprehensive marketing strategy.
2. What Are The 3 Most Important Things In Digital Marketing?
At its highest level, digital marketing has three main components: Lead Generation, Lead Capturing, and Lead Nurturing. In addition, organic search, social media marketing, content marketing, and lead nurturing, all of these elements combined make up a cohesive digital marketing strategy.
3. What Kind Of Marketing Is Most Successful?
Social media marketing is one of the most popular types of marketing strategies. It is also one of the most effective ways to build awareness and increase sales.
4. What Is The Biggest Problem In Digital Marketing?
The number of internet users is increasing day by day and their demand is changing almost every second. So, targeting the right audience has become one of the biggest challenges for marketers.
5. What Is SEO In Digital Marketing?
SEO means Search Engine Optimization. It is the process of getting traffic from free, organic, editorial, or natural search results in search engines. It is used to optimize a website's technical configuration, content relevance, and link popularity so its pages can become easily findable, more relevant, and popular towards user search queries, and as a consequence, search engines rank them better.
6. What Is UX In Digital Marketing?
User Experience (UX) is a quality attribute that measures how the user interacts with a web interface and digital marketing. Nowadays, a good user experience is the most important thing for doing digital marketing effectively.
7. How Is AI Used In Marketing?
In digital marketing, artificial intelligence technologies are used to make automated decisions based on data collection, data analysis, and additional observations of audience or economic trends that may impact marketing efforts.
8. Is Digital Marketing Difficult?
Digital marketing requires a combination of diverse and challenging skills. It may be a challenging job for you because you are working with a potentially global audience at large, even when you are actually working with a small startup brand.
9. Is Digital Marketing A High-Paying Job?
Nowadays, digital marketing is one of the highest-paying and fast-paced jobs across the world. Starting in posts like social media marketing or email marketing, you will be able to advance quickly to higher positions in high-growth companies.
10. How Much Money Do Digital Marketers Make?
In India, the average salary for a Digital Marketing beginner level / fresher is about Rs 3.0 Lacs to 4.0 Lacs per annum. This will depend on various other factors like skills, organization, and city of work.
The salary of a digital marketer is comparatively higher than the salary of other experts in this industry. In the United States, the average salary for a digital marketer is approx $62,253 per year.
Hope you enjoy this article on 'What is Digital Marketing: The Ultimate Guide for Beginners'. If you have any queries, please let me know in the comment box, we will try to answer your question as soon as possible. THANK YOU & DON'T FORGET TO SHARE WITH YOUR FRIENDS Who Need This Informative Article.
Explore More...


Cloud Computing – Everything You Need To Know

What Is Metaverse – Full Information

What is NFT – How to Create and Sell NFTs?

Web 3.0 – The Next Generation of the Internet

What is the IoT (Internet of Things) – A Complete Guide for Beginners