Top 13 Freelance Sites to Earn Money Online for students: A freelancer is hired for a specific project, service, or task by the client, or conventionally the employer. They work on a variety of projects at the same time but for different clients. So, it is definitely worth working as a freelancer, as you can have the flexibility of time and place apart from becoming your own boss. You can have a proper work-life balance and have a lot of time for other work as well.
Freelance made up 36% of the U.S. workforce in 2020. No wonder the percentage is still growing, because many people have turned towards freelancing as a career option because of the employment issues created due to Covid-19.
The freelancing market is expected to grow steadily in the coming years. By 2023, the global freelance market economy is likely to reach $455 Billion USD. In 2020, there were 59 Million people doing freelance work in the United States. This is an increase from 2014 when there were about 53 million people freelancing.
The future of freelancing in India also looks promising. Many individuals are choosing to work according to their preferences like where they want when they want, and the work of their choice. By 2025, freelancing statistics are estimated to grow to $20 to 30 billion In India.
If you are a beginner, then freelancing websites are an easier way to earn money online. These platforms are very easy to browse and find jobs that match your skills.
If you are looking for a freelance job, you probably know how irresistible the job can be, even if you have already created an online portfolio. But don't worry – in this article, we'll list the Top 13 Freelance Sites to Earn Money Online for students.
13. Truelancer
Truelancer is an Online Platform for Employers to Hire Professionals to get their work done and Freelancers and Professionals can Search for Jobs and Earn money by working with real clients across the world. It consists of the basic view of creating an online community where freelancers and employers from India and all across the globe would come together and work.
It is one of the best platforms for Freelancers and Employers to work on free online typing jobs from home without investment jobs. This is a Global Freelance Marketplace, a Network of 600,000+ Freelance Professionals. It offers freelance jobs online for beginners, work from home jobs, virtual assistance jobs, marketing trainers, and more. You can easily earn money by doing jobs on Truelancer.
Website Link: www.truelancer.com
12. Dribbble
Dribbble is a self-promotion and social networking platform for digital designers and creatives. It is a hub for the people who are hunting for a freelancing job. It is a place where you can easily share your web design work with employers and find the most relevant job opportunities.
Dribbble is one of the most popular platforms for creative talents to meet, connect, and interact with each other. Designers and artists use this website to build portfolios and promote their brands. This website contains numerous projects for UI & UX Designers, Product Designers, Visual Designers, Brand Designers, etc.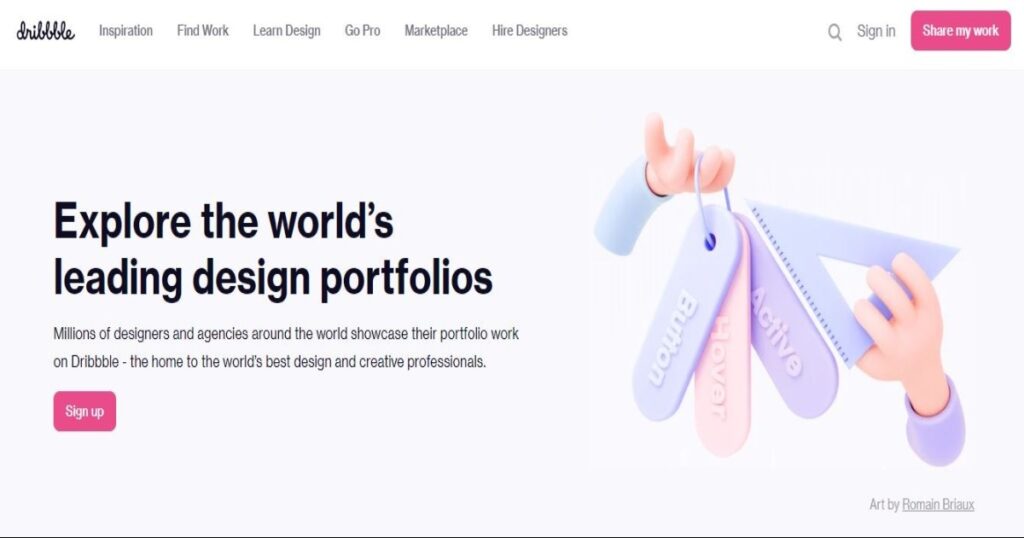 It serves as a design portfolio platform, jobs, and recruiting site, and is one of the largest platforms for designers to share their work online. The company is a distributed company with no headquarters; all employees are remote workers.
Website Link: dribbble.com
11. FlexJobs
FlexJobs is a job service platform that curates flexible, professional, and legitimate job opportunities and puts them into one easy place for you to find them. It also allows pre-screened, approved employers to find candidates who fit their hiring needs and then reach out to them directly.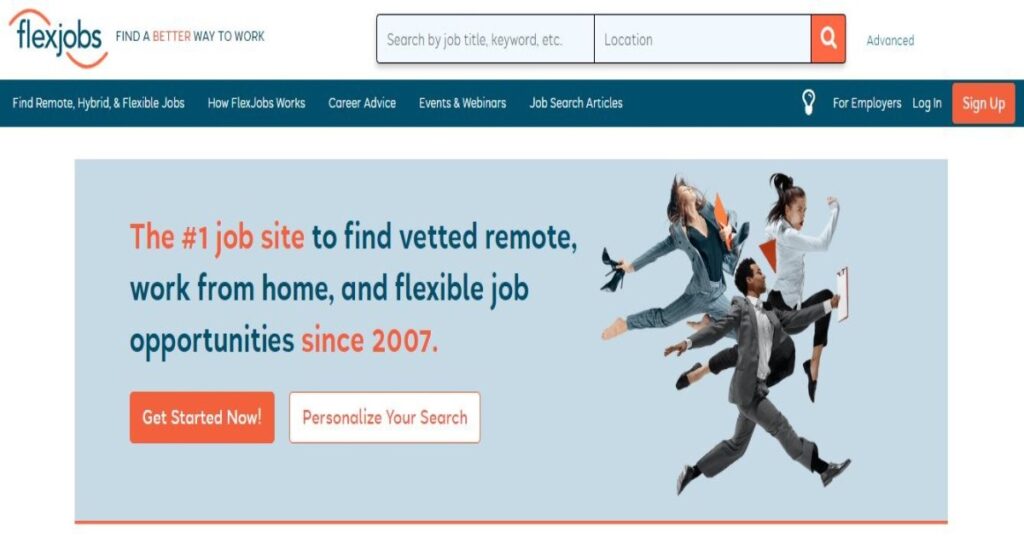 This platform specializes in flexible and remote job opportunities, including freelance, part-time and full-time jobs. There are broad categories, from education and training to journalism and writing jobs.
Website Link: www.flexjobs.com
10. Toptal
This is a global remote company that provides a freelancing platform, connecting businesses with Software Engineers, Finance Experts, Designers, Product Designers, Project Managers, Financial Consulting, Interim Management, and so on.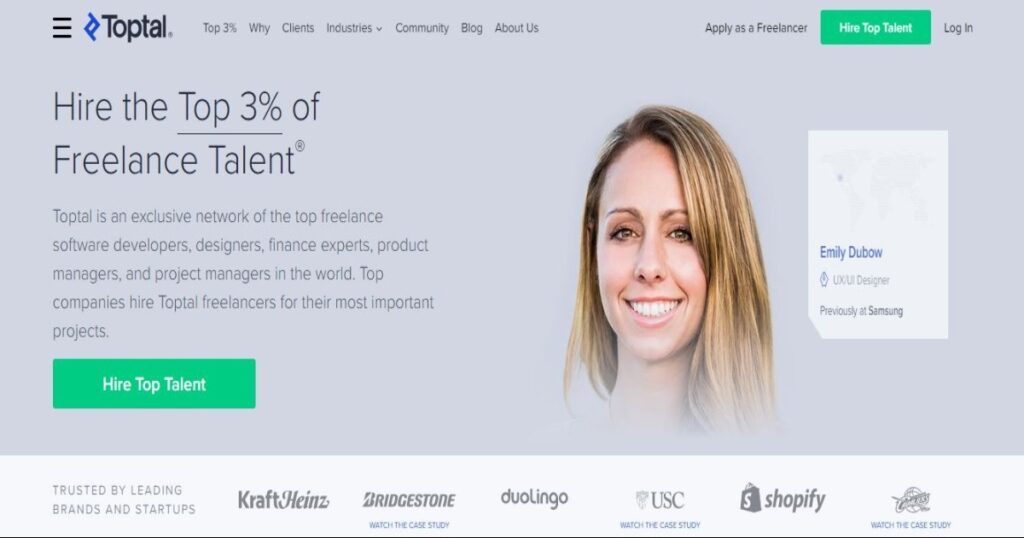 It is a freelance website that connects highly qualified freelance industry experts with companies. You can easily find jobs in numerous industries like Healthcare, E-Commerce, Banking, and many more.  Many well-known companies hire freelancers from this platform for their projects. The company has no headquarters.
Website Link: www.toptal.com
9. SimplyHired
This is a big and broad job hunting website with tons of options, but it is a great way to look for some freelance work, particularly if you are a Content Writer, Graphic Designer, or Web Designer. The company aggregates job listings from thousands of websites and job boards. It then advertises those jobs on its website and mobile app.
The site has a clean user interface, making it easy to browse jobs by category. It's very easy to navigate and you can quickly search through a large number of recent job offerings in your field. There are various freelance opportunities in different fields, including Finance and Marketing, Human Resources, Data Entry, etc.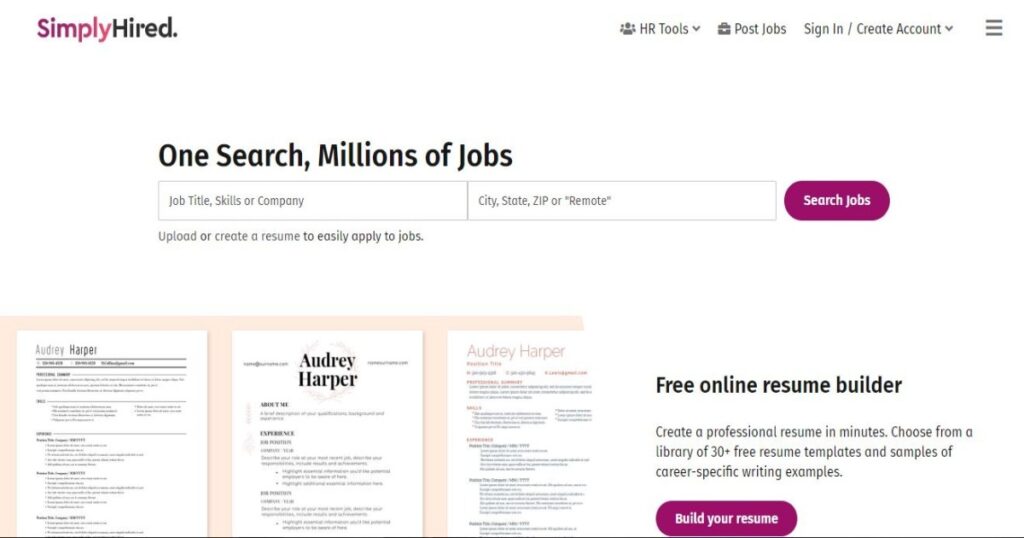 Website Link: www.simplyhired.com
8. DesignHill
DesignHill platform caters to the creative needs of businesses and individuals alike who can source high-quality designs from professional designers and unique products created by independent artists.
It is a creative marketplace where businesses source quality design from professional designers and artists. There is a broad range of design jobs available, including Logos, Brochures, Website, Brand, and Merchandise Designs, and so on.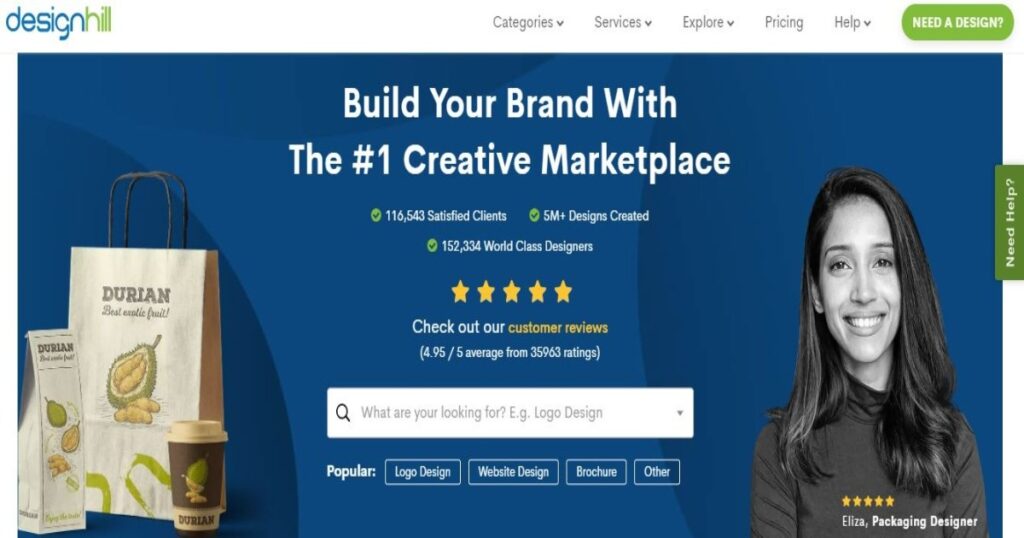 Website Link: www.designhill.com
7. Behance
Behance is a social media platform owned by Adobe whose main focus is to showcase and discover creative work. People worldwide use this website to build portfolios and share their creative work, ranging from animations and illustrations to website and graphic design.
Behance helps you to work as a graphic designer for full-time, as a freelancer, or internship project. You may find a job in various categories like Architecture, Photography, Branding, Illustration, Fashion, Web Design, and more.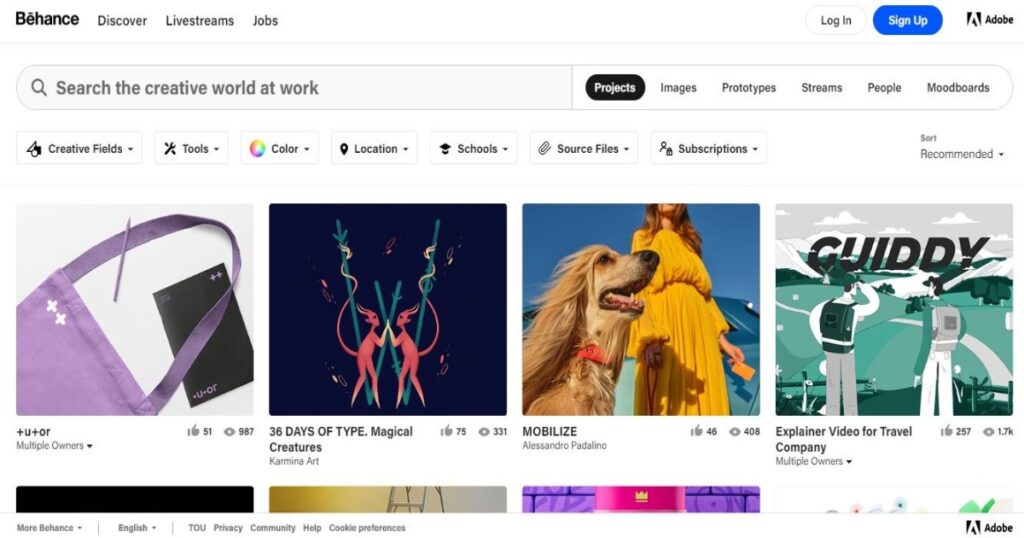 Website Link: www.behance.net
6. 99designs
99designs is a freelance platform where over 281,579 designers from 192 different countries can connect to potential clients and showcase their work. It is specially tailored for connecting graphic designers and clients to collaborate.
There are various design projects available, from Logo Design and Book Covers to Clothing and Merchandise, Web App Design, Creating Art and Illustration, etc. YOU CAN DESIGN Websites, Logos, T-Shirts or get into Logo and Identity, Web and App Designing, Flyer or Print, Business and Advertising, Art and Illustration, Labelling, Packaging, and Product Packaging, Clothing and Merchandise, Product Label, Social Media Page, Postcard, Poster, Book and Magazine Designing, etc.
Website Link: 99designs.com
5. People Per Hour
PeoplePerHour, legally People Per Hour Limited is a UK-based company whose function is as an online platform giving businesses access to freelance workers. It is one of the best freelance websites which helps these people to connect with clients. This site allows you to showcase your talent and get hired by the project or by the hour.
There are millions of freelancers from different industries, such as Public Relations, Marketing, Journalism, Programing, Branding, Content Writing, Copy Writing, Designing, Illustration, and so on. Above all, this website is trusted by thousands of businesses globally with 1,003,622 businesses and 2,909,437 freelancers. It has solved over 1 million problems for businesses.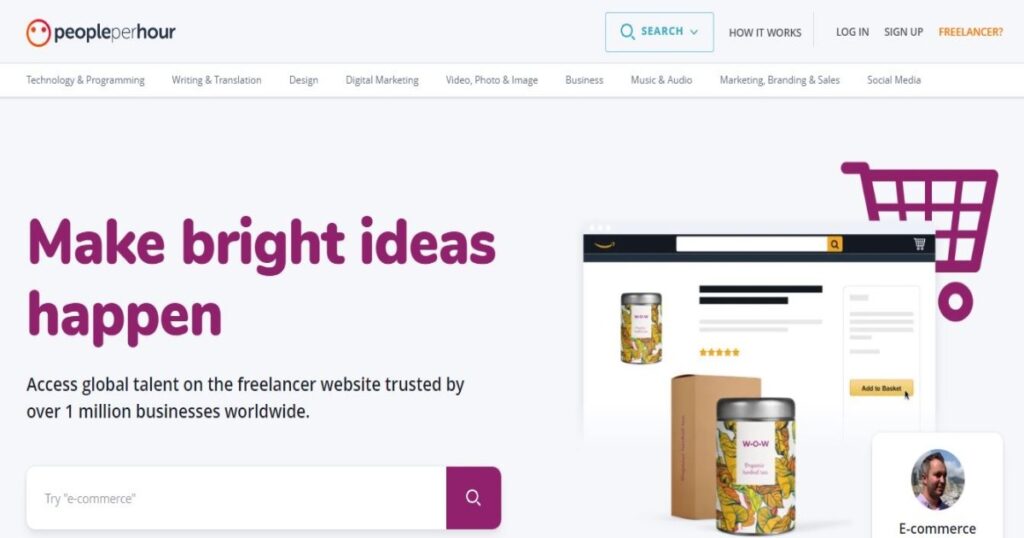 Website Link: www.peopleperhour.com
4. Guru
Guru is one of the largest freelancing websites for the Programmers, Web Designers, and Content Writers, which allows companies to find freelance workers for commissioned work. Over 3 million freelancers are registered with Guru. This website has been running up for 20 years and is known for its credibility.
It is one of the best freelancing sites for a beginner which gives an easy way to get contacted by potential employers.  This website has various job offers ranging from- Digital Marketing, Sales, Administration, Legal, Engineering, Content Writing, Content Marketing, etc.
Website Link: www.guru.com
3. Upwork
Upwork is one of the best websites to look for freelance work of all types. It is also the best website for beginners as it offers work in a number of basic categories including Writing, Coding, Designing, etc.
The platform provides a wide range of categories, like Web Design and Software Development, Customer Service and Accounting, Data Science and Analytics, Writing, Engineering, Architecture, and many more making it the largest freelancer marketplace in the world.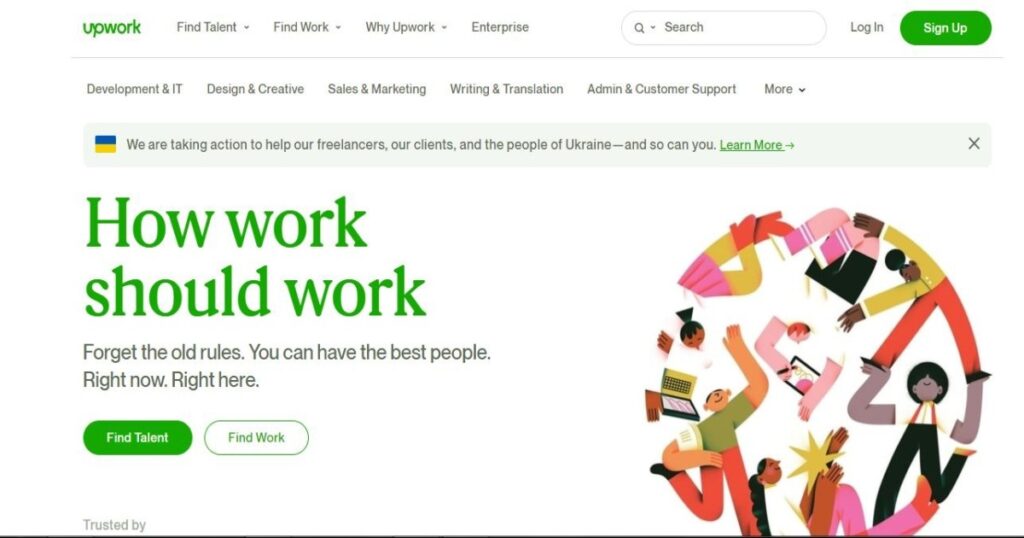 In 2017, Upwork had over twelve million registered freelancers and five million registered clients. More than three million jobs worth over $1 billion USD together were posted in 2017. In March 2022, Upwork was named to TIME's List of 100 Most Influential Companies of the year 2022.
Website Link: www.upwork.com
2. Fiverr
Fiverr is an Israeli online marketplace for freelance services. This platform serves to allow listing and applying for small one-off jobs, or gigs, online.
It is an online marketplace where you can sell your services at the base price of $5. You can offer anything from writing a resume for someone to editing a video or audio, or making a logo design, web design, or coding, whatever your skill might be you can easily market it on Fiverr.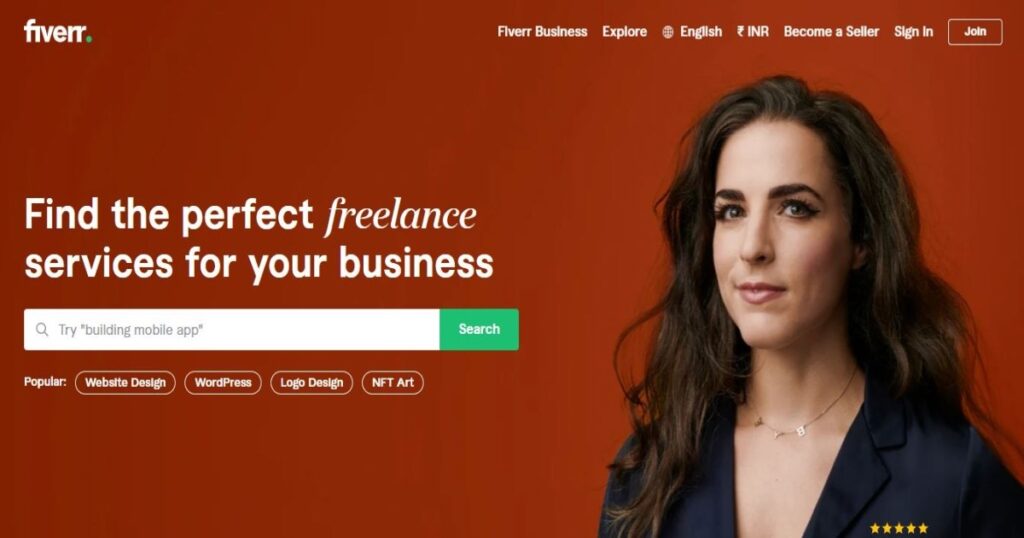 It offers jobs related to Digital Marketing, Web Development, Social Media Marketing, Copy Writing, Translation, Audio Editing, and Video Editing, etc. People who want to earn money; need to know how to use Fiverr in the right way. This site also provides a simple way to build an impressive portfolio.
Website Link: www.fiverr.com
1. Freelancer
The first-ever best site to make money online as a freelancer is – Freelancer.com. Freelancer is an Australian freelance marketplace website, which allows potential employers to post jobs that freelancers can then bid to complete. It is a freelance marketplace where employers and employees are able to find each other. The site allows employers to post work for site members who place bids in a competitive tender process.
This website provides jobs like Data Entry, Content Translation, Web Development, Product Sourcing, Sales and Marketing, Human Resources, Social Media Marketing, Content Writing, Copy Writing, Application Development, Accounting Translation, etc. You can earn huge dollars by doing projects for various clients all across the world.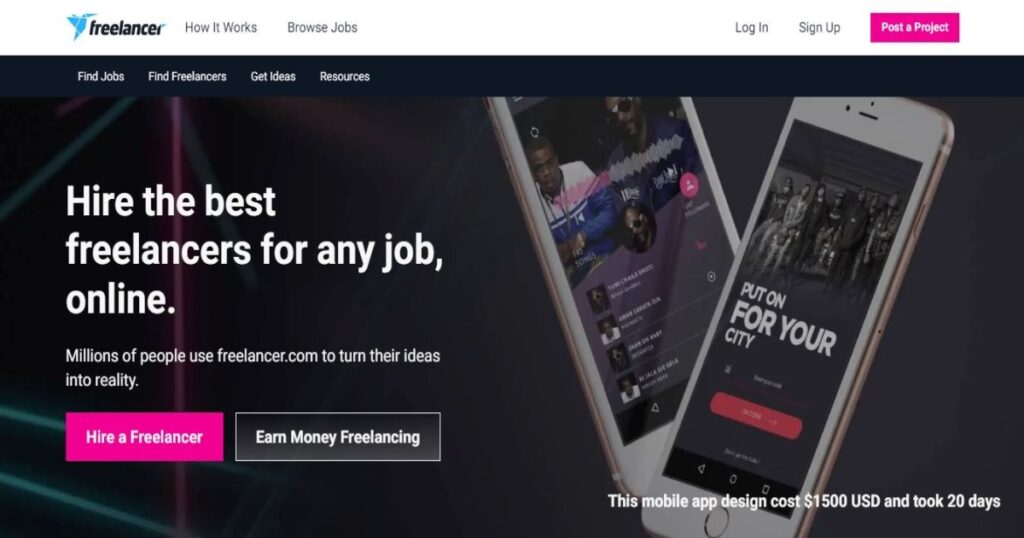 Freelancer.com is the world's largest freelancing and crowd-sourcing platform for several users and projects. They currently have over 16 million registered users globally from beyond 247 countries, regions, and territories.
Website Link: www.freelancer.com
In addition to the above Freelancing Websites, there are many more freelance job sites where you can work online, and make a huge amount of MONEY.

The choice is yours 🙂
Hope you enjoy this article on 'Top 13 Freelance Sites to Earn Money Online for students', which will help you to choose the right Freelance Website for you, and also help to earn more money.
If you have any queries, please comment. THANK YOU & DON'T FORGET TO SHARE WITH YOUR FRIENDS Who Need This Informative Article.
//** All Images Were Captured From the Homepage of Their Original Website **//
Want to learn more?